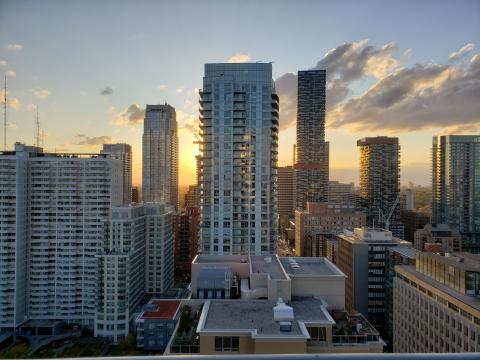 TORONTO – January 18, 2021:  Urbanation Inc., the leading source of information and analysis on the GTA condominium and rental apartment markets since 1981, released its Q4-2020 rental market results today.
Vacancy Rate Rises to 5.7% in City of Toronto
Urbanation's survey of newer purpose-built rental apartment projects that have been completed in the City of Toronto since 2005 reported a vacancy rate of 5.7% in Q4-2020, increasing from 1.1% in Q4-2019. The latest surveyed rental vacancy rate represents a 50-year high when examining historical CMHC survey data for Toronto back to 1971.  In the 905 region of the Greater Toronto Area, vacancy rates increased from 0.8% in Q4-2019 to 2.0% in Q4-2020. The still low vacancy rate in the 905 can be attributable to a relatively limited amount of rental stock and increased population outflows from the City of Toronto. The overall vacancy rate for the Greater Toronto Area was 4.6% in Q4-2020, up from 1.0% in Q4-2019.
Average rents for purpose-built units that became available for rent during Q4-2020 declined 10.0% year-over-year in the City of Toronto to $2,337 in Q4-2020, with average per square foot rents down 6.2% year-over-year to $3.49 psf. The annual decline in average rents in the 905 region was milder at 2.2%, down to $2,139, with average per square rents increasing 1.0% year-over-year to $2.46 psf. For the GTA as a whole, average monthly rents were down 8.0% year-over-year to $2,289, declining 3.9% year-over-year on a per square foot basis to $3.19 psf. When excluding new buildings with typically higher rents that finished construction in 2020, average GTA purpose-built rents declined 8.9% year-over-year (down 5.7% on a per square foot basis).  The reported decline in rents was additional to incentives. Urbanation found that the majority of rental buildings surveyed continued offering incentives in the fourth quarter to attract new tenants, which included up to two months' free rent.
There were seven new purpose-built rental apartment buildings that reached completion in the GTA during 2020 (six in Toronto and one in Mississauga), totaling 1,699 units. By the end of the year, the new buildings were 44% occupied on average, with rents averaging $2,480 ($3.82 psf). By comparison, 11 new buildings (nine in Toronto and two in the 905) totaling 3,563 units reached completion in 2019, which were 70% occupied by the end of last year with rents that averaged $2,654 ($3.77 psf). Looking ahead to 2021, 18 rental projects (15 in Toronto and three in the 905) totaling 4,977 units are scheduled for completion in the GTA, representing the highest total since 1993.
Purpose-built rental construction slowed in 2020 following the onset of COVID-19. After reaching a multi-decade high of 13,764 units under construction in the GTA in Q1-2020, the number of rentals under construction declined to 12,521 units as of Q4-2020, which was slightly below the level in Q4-2019 (12,551 units) but the second highest year-end level in more than 30 years.

Condominium Rents Continued to Fall despite a Record Volume of Lease Activity in 2020
Condominium rental lease transaction volume in the GTA increased 25% in 2020 to a record high of 38,366 units. However, the number of units that became available for rent last year increased by 46%, resulting in a 162% annual increase in year-end active listings to a record high 8,066 units. Measured against the monthly average rate of absorption in Q4-2020, there was 2.0 months of inventory on the market for condo rentals at the end of the year, up from 1.4 months at the end of 2019 but down from the high of 3.3 months at the end of Q2-2020. Two-thirds of all lease activity in 2020 occurred during the second half of the year as renters took advantage of rent discounts.
The average transacted rent for condo apartments in the GTA declined 14.1% year-over-year in Q4-2020 to $2,076, which was the lowest level since Q2-2017. On a per square foot basis, average condo rents declined 13.0% to $2.95 psf, marking the first time rents fell below $3.00 psf since Q1-2018. Rent declines were steepest in the former City of Toronto mainly representing the downtown markets, with average per square rents down 17.2% year-over-year in Q4-2020 to $3.14 psf ($2,104). In the outer 416 region (including North York, Etobicoke and Scarborough), average rents declined 12.7% year-over-year in Q4-2020 to $2.78 psf ($2,036), while average rents were down the least in the 905 region with an annual decline of 4.9% to $2.69 psf ($2,050).

"The GTA rental market faced its toughest challenges to date in 2020 due to COVID-19. While rents have a long way to go before returning to their peak and supply will continue to be a headwind in the near-term, some improvement can be expected in 2021 as vaccinations eventually lead to higher immigration and at least a partial return to the office for downtown workers and in-class learning for post-secondary students."
- Shaun Hildebrand, President of Urbanation.
ABOUT URBANRENTAL
Urbanation's UrbanRental subscription provides quarterly market reports and online historical database access for newly completed, under construction and proposed purpose-built rentals in the GTA and Hamilton-Grimsby, in addition to secondary condominium rentals in registered buildings. Urbanation surveys purpose-built rental projects developed since 2005 for market rents and vacancies through our direct relationships with rental building owners and management companies, and our continuous monitoring of information on units becoming available for rent.  We regularly conduct in-person site visits and provide full profiles for every new rental project surveyed. Our rental database also tracks development progress for every new rental project under construction and proposed for future development.
ABOUT URBANATION
Urbanation is a real estate consulting firm that has been providing market research, in-depth market analysis and consulting services to the apartment industry since 1981. Urbanation uses a multi-disciplinary approach that combines empirical research techniques with first-hand observations and site visits.  Urbanation offers subscription services and custom market studies covering the new construction condominium and purpose-built rental apartment markets in the Greater Toronto and Hamilton Area.
www.urbanation.ca                    Contact: Shaun Hildebrand
www.twitter.com/urbanation     [email protected]