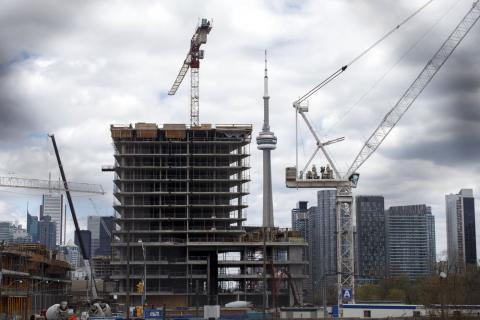 TORONTO – February 01, 2021:  Urbanation Inc., the leading source of information and analysis on the condominium market since 1981, released its year-end 2020 Condominium Market Survey results today.
New condominium apartment sales in the GTA declined 28% in 2020 to 18,247 units, the lowest annual total since 2013 and 15% below the 10-year average (21,421). Sales remained in line with new launches of 18,004 units last year, down from 25,296 launches in 2019. The 4,642 new condominium units sold in Q4-2020 was down 43% year-over-year and 22% below the 10-year Q4 average (5,960). However, a record third quarter brought total units sold during the second half of the year to 11,031 units, above the 10-year average of 10,491 units for second half sales.
For the first time ever the 905 region of the GTA represented more than half (51% share) of new condo sales, with 9,288 units sold in 2020 — the third highest annual total on record behind 2019 (10,842) and 2017 (11,531). In the City of Toronto, sales declined 38% in 2020 to 8,959 units, representing a more than 15-year low.
Unsold new condo inventory at year-end within projects across all stages of development declined 2.7% annually to 13,801 units, falling 13% below the 10-year average (15,780). In the 905 region, unsold inventory fell 12% year-over-year to 3,718 units, equal to 4.8 months of supply based on 2020 sales. In the City of Toronto, unsold inventory increased 1.4% from year-end 2019 to 10,083 units, equal to 13.5 months of supply. Across the GTA, unsold inventory was priced at $1,126 psf in Q4-2020, up 5.2% annually.
Selling prices for new condominium units that launched for presale in 2020 averaged a record $1,063 psf, up 10.3% compared to average selling prices for new launches in 2019 ($964 psf). Average selling prices increased 16.9% in the 905 region to $928 psf, while City of Toronto prices grew 10.8% to $1,227 psf. 

Despite the shift in new condominium sales to the 905 region, the mix of new units brought to market last year became smaller. In 2020, a 60% share of GTA new launches were represented by one bedroom and studio units, increasing from a 53% share of new launches in 2019. The average unit size of GTA new launches in 2020 was 688 sf, down from an average of 715 sf in 2019. Interestingly, the average size of new launches in the City of Toronto increased from 676 sf in 2019 to 706 sf in 2020, while the average size of new launches in the 905 region declined from 735 sf in 2019 to 690 sf in 2020.
COVID-19 failed to slow down the GTA construction industry in 2020. Construction starts for new condominium apartments reached their second highest level on record in 2020 at 26,662 units, increasing 9% from 2019. At the same time, a record high 22,473 new condominiums reached completion. At the end of 2020, a record high 81,029 condominiums were under construction across the GTA. 
"The GTA new condominium market recorded a respectable number of sales in 2020 as the industry pivoted to a virtual sales environment amid lockdowns caused by COVID-19. The shift in activity to the 905 region accelerated last year as demand for relatively affordable suburban sites intensified alongside the broader real estate market."
      --Shaun Hildebrand, President of Urbanation
ABOUT THE CONDOMINIUM MARKET SURVEY
Urbanation has been surveying the GTA condominium market each quarter since 1981 through established relationships with the region's developers, brokerages, and lenders. In addition, our team of experienced researchers conduct regular site visitations to compile the industry's most in-depth coverage on every new condominium project in development across the region.
Urbanation's Condominium Market Survey subscription provides access to our historical online database of new condominium developments in the GTA and Hamilton-Grimsby, including full project profiles and unit information, and market reporting metrics such as sales totals, absorption rates, inventory levels, average sold and unsold prices per sf, incentives, and more. Data is reported at the individual project level, with tools to generate regional, municipal, and submarket totals. Information on upcoming new condo project launches and future developments are tracked in our proposed database, which is also included as part of the Condo Market Survey subscription.
ABOUT URBANATION
Urbanation is a real estate consulting firm that has been providing market research, in-depth market analysis and consulting services to the apartment industry since 1981. Urbanation uses a multi-disciplinary approach that combines empirical research techniques with first-hand observations and site visits.  Urbanation offers subscription services and custom market studies covering the new construction condominium and purpose-built rental apartment markets in the Greater Toronto Area.