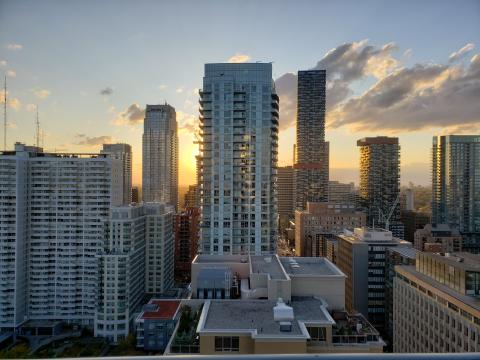 VACANCY RATES IN NEW RENTALS CONTINUE TO CLIMB IN Q1

TORONTO – April 19, 2021:  Urbanation Inc., the leading source of information and analysis on the GTA condominium and rental apartment markets since 1981, released its Q1-2021 rental market results today.

Vacancy Rises to 6.6% in Buildings Completed Since 2005 (13.0% per CMHC Methodology)
Urbanation's survey of newer purpose-built rental apartment projects that have been completed in the Greater Toronto Area since 2005 reported a vacancy rate of 6.6% at the end of Q1-2021, increasing from an upwardly revised rate of 5.7% in Q4-2020  and from 1.1% a year ago in Q1-2020. In the City of Toronto, vacancy rates increased to 8.8% in Q1-2021 from a revised 7.3% in Q4-2020 and 1.1% in Q1-2020. In the 905 region of the GTA, vacancy rates remained low at 1.5%.
Urbanation's vacancy calculations exclude buildings still in their initial lease-up period, regardless of how long they have been on the market. This differs from the methodology used by CMHC when calculating vacancy rates, which includes all buildings that have been on the market for at least three months. When applying the CMHC methodology, Urbanation's survey reveals a vacancy rate of 13.0% at the end of Q1-2021 in the GTA (16.5% in the City of Toronto) for buildings completed since 2005, which compares to a vacancy rate of 8.3% in the GTA (9.5% in the City of Toronto) published by CMHC in their October 2020 survey for the same set of buildings. When examining historical CMHC back to 1990 for newer buildings, the latest rates of vacancy surveyed by Urbanation represent a record high for the GTA.
Average rents for available units within buildings completed since 2005 in the GTA were $2,278 ($3.14 per square foot) during Q1-2021, declining 8.2% (-5.3% per sf) year-over-year. In the City of Toronto, rents were down 10.1% from a year ago to $2,331 (down 7.7% on a per sf basis to $3.41). The decline in rents was additional to widespread incentives being offered in the market. About two-thirds of buildings were offering free rent periods of one to three months to attract new tenants. Urbanation calculated that these free rent periods were equal to a rent reduction of approximately $255 per month when averaged over the course of the initial lease term.

GTA Rental Supply Pipeline Reaches 100,000 Units
New rental construction activity slowed over the past year, but long-term planning for purpose-built rental development continued to escalate. A total of 1,009 new rental units started construction in the year ending Q1-2021, down 73% from 3,735 starts in the year ending Q1-2020. The number of purpose-built rentals under construction across the GTA as of the end of Q1-2021 totaled 13,563 units, which was down slightly from a year ago (13,863) but more than twice as high as the level from five years ago in Q1-2016 (5,833 units). The total number of proposed purpose-built rental units that haven't started construction reached a recent high of 86,683 units — 34% higher than a year ago (64,757 units) and bringing the total pipeline of rental units under construction and planned in the GTA to over 100,000 units.

Early Signs of Rental Stability Appear in Condo Market
Condominium lease transaction activity reached a Q1 high of 11,928 units, up 70% from a year ago. Importantly, total condo rental listings fell 12% quarter-over-quarter, which helped the ratio of quarterly condo leases-to-listings improve to a pandemic high of 61% — still 10 percentage points below the 10-year average but reaching the lower boundary of a balanced market. In a sign that the urban rental market may be starting a comeback, the City of Toronto outperformed the 905 Region in terms of annual growth in lease activity in Q1 by a wide margin of 78% versus 46%.
Evidence of a bottoming-out for rents appeared in the first quarter data. On a quarter-over-quarter basis, average per sf rents decreased 1.4% — a significant improvement compared to the 7.5% quarterly drop recorded in Q4-2020. Furthermore, average monthly rents increased month-over-month in both February and March (each by more than 1%), suggesting that the market reached its low in January at about $2,000 and is already on the path to recovery.
At an average of $2,037, condo rents in the GTA were down 14% year-over-year in Q1. In the City of Toronto, average rents declined 16.2% year-over-year to $2,033, falling below the 905 average of $2,053 (down 6.7% year-over-year) for the first time ever.  On a per square foot basis, rents remained higher in the City of Toronto than in the 905 at $2.98 versus $2.67.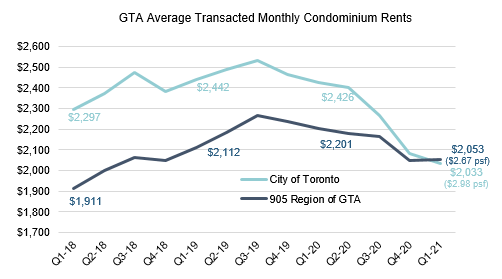 "The rental market will continue to contend with COVID-19 as the third wave keeps the GTA in a lockdown during the second quarter. However, market dynamics were set in motion in the first quarter to generate strengthening rental conditions as the year progresses — particularly later in the second half as the population becomes vaccinated, offices start to reopen, immigration rises, and post-secondary students potentially return to in-class learning. These variables are obviously subject to change and dependent upon exogeneous factors, but as each day passes and housing prices get more expensive, the upside for the rental market rises."
- Shaun Hildebrand, President of Urbanation.
ABOUT URBANRENTAL
Urbanation's UrbanRental subscription provides quarterly market reports and online historical database access for newly completed, under construction and proposed purpose-built rentals in the GTA and Hamilton-Grimsby, in addition to secondary condominium rentals in registered buildings. Urbanation surveys purpose-built rental projects developed since 2005 for market rents and vacancies through our direct relationships with rental building owners and management companies, and our continuous monitoring of information on units becoming available for rent.  We regularly conduct in-person site visits and provide full profiles for every new rental project surveyed. Our rental database also tracks development progress for every new rental project under construction and proposed for future development.