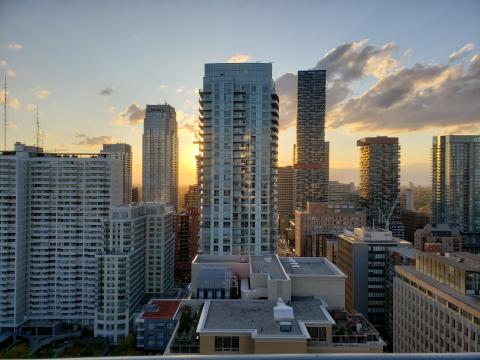 TORONTO – July 19, 2021:  Urbanation Inc., the leading source of information and analysis on the GTA condominium and rental apartment markets since 1981, released its Q2-2021 rental market results today.
The GTA rental market recovery began in earnest during the second quarter, with a surge in leases, reduced vacancy, and an increase in rents as lockdown measures began to ease. Remarkably, downtown Toronto led the growth in rental activity in Q2 as the mass vaccination rollout and gradual reopening of the economy during the second quarter combined with attractive rent discounts to bring renters flooding back into the core.
Vacancy Rate Declines to 5.2% as Absorptions Soar
Urbanation's survey of newer purpose-built rental apartment projects that have been completed in the Greater Toronto Area since 2005 reported a vacancy rate of 5.2% at the end of Q2-2021, decreasing from a high of 6.5% in Q1-2021 but remaining above the 2.1% level from a year ago. Vacancy rates averaged 6.9% (8.8% in Q1-2021 and 2.7% in Q2-2020) in the City of Toronto and 1.4% (1.5% in Q1-2021 and 0.8% in Q2-2020) in the 905 region of the GTA. Vacancy rate data excludes new buildings still in their initial lease-up phase.
A total of 1,242 new purpose-built rental units were completed and began occupancy during Q2-2021, the second highest quarterly total for new supply additions in more than 30 years (behind the 1,782 units completed in Q1-2019). The new supply, which was entirely located in the City of Toronto, was met with a high level demand, as quarterly net absorptions (i.e. the change in total occupied units) within the rental stock built since 2005 rose to 716 units — four times higher than the level from a year ago (179 units) and 67% above the five-year quarterly average (430 units).
Average rents for units that were available within newer rental buildings completed since 2005 in the GTA were $2,289 ($3.18 per square foot) during Q2-2021, declining 5.0% year-over-year but rising 1.9% quarter-over-quarter — the first rent increase since the start of the pandemic. However, incentives were still prevalent in the market during the second quarter, with 88% of surveyed buildings offering some form of incentive. One month of free rent continued to be the most common with a 52% share of incentives, followed by two month's free rent with a 25% share of incentives.
Condos Rents Post Strong Increase from Q1 as Lease Activity Reaches a Record High
The number of leases signed for condominium rentals in the GTA more than doubled from a year ago, surging 108% to 12,747 units — the highest Q2 level on record. Over the last four quarters, condo lease transaction activity reached an unprecedented 50,004 units, which was 58% higher than the pre-COVID peak of 31,696 units leased in the four quarter period to Q1-2020. Demand in the latest quarter was driven by the former City of Toronto (largely representing the downtown market), where the number of new leases signed grew 129% year-over-year in Q2. The 7,642 condo lease transactions in the former City of Toronto represented a record high share, indicating a migration of renters back into the core.
Renters have remained budget conscious during the initial stages of the market recovery and haven't necessarily been seeking more space coming out of the pandemic. Studios, which experienced the sharpest drop in rents during COVID-19, recorded the strongest annual growth in lease transaction volume of 154% in Q2. More generally, the smallest condo rentals under 600 sf represented a record high share (36%) of units leased in the second quarter. As a result, the average size of a condo unit leased in Q2 fell to a record low of 695 sf.
At an average of $2,124, condo rents in the GTA were down 9.8% year-over-year in Q2 but increased 4.3% quarter-over-quarter. In the former City of Toronto, average condo rents of $2,147 grew 4.9% from the first quarter, remaining 12.5% lower than a year ago. On a per square foot basis, average GTA condo rents rebounded by 5.2% between Q1 and Q2 (to $3.06 psf), with studio rents jumping by 6.7% quarter-over-quarter to $3.75 psf ($1,532) but still 12.1% lower than a year ago ($4.27 psf; $1,778).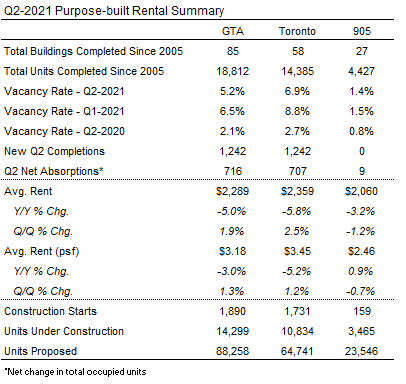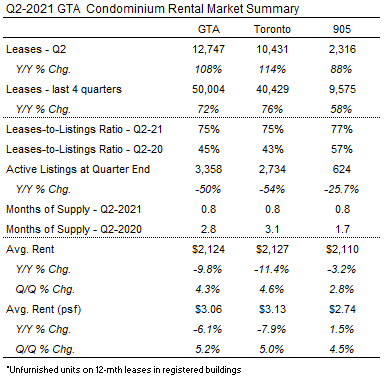 "The GTA rental market began to resemble pre-COVID times during the second quarter, which is a testament to a strong foundation of demand that will only grow going forward as immigration recovers, schools and offices reopen, and expensive ownership housing leads to greater levels of renter household formation. While new construction activity is also on the rise, the level of supply underway is expected to lag behind demand, creating conditions for rents to continue rising towards pre-covid levels and beyond in the months to come."
- Shaun Hildebrand, President of Urbanation.
ABOUT URBANRENTAL
Urbanation's UrbanRental subscription provides quarterly market reports and online historical database access for newly completed, under construction and proposed purpose-built rentals in the GTA and Hamilton-Grimsby, in addition to secondary condominium rentals in registered buildings. Urbanation surveys purpose-built rental projects developed since 2005 for market rents and vacancies through our direct relationships with rental building owners and management companies, and our continuous monitoring of information on units becoming available for rent.  We regularly conduct in-person site visits and provide full profiles for every new rental project surveyed. Our rental database also tracks development progress for every new rental project under construction and proposed for future development.
ABOUT URBANATION
Urbanation is a real estate consulting firm that has been providing market research, in-depth market analysis and consulting services to the apartment industry since 1981. Urbanation uses a multi-disciplinary approach that combines empirical research techniques with first-hand observations and site visits.  Urbanation offers subscription services and custom market studies covering the new construction condominium and purpose-built rental apartment markets in the Greater Toronto Area.