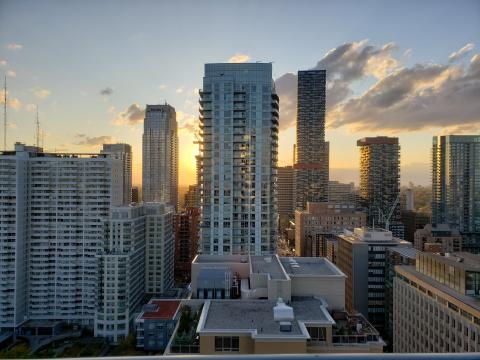 TORONTO – October 18, 2021:  Urbanation Inc., the leading source of information and analysis on the GTA condominium and rental apartment markets since 1981, released its Q3-2021 rental market results today.
Vacancy Rate Declines to 3.0%
Urbanation's survey of purpose-built rental apartment buildings in the Greater Toronto Area reported a vacancy rate of 3.0% at the end of Q3-2021, falling from 5.1% during the previous quarter in Q2-2021. Vacancy rates in Q3-2021 were less than half the high of 6.4% in Q1-2021 and reached a level that is considered balanced. In the former City of Toronto (which largely represents the downtown market), vacancy rates fell to 3.8% in Q3-2021 from 6.6% in Q2-2021 and a high of 9.0% in Q1-2021.
Average rents for units that were leased during Q3 and available at the end of the quarter within newer buildings completed since 2005 were $2,389 ($3.30 per square foot), rising 3.8% from the second quarter and up 1.7% year-over-year — the first annual rent increase recorded since the start of the pandemic. However, the annual growth in rents was attributed to a number of relatively more expensive buildings that were completed during the past year. Excluding these new buildings, rents were down 1.8% year-over-year in Q3.
There was a reduced presence of incentives in the rental market during the third quarter. A 57% share of surveyed buildings offered incentives in Q3-2021, down from an 88% share in Q2-2021. One month of free rent remained the most common incentive, found in 60% of buildings that offered incentives in Q3. Additional incentives included up to two month's free rent (18% share of buildings reporting incentives), move-in bonuses (8% share), and various others.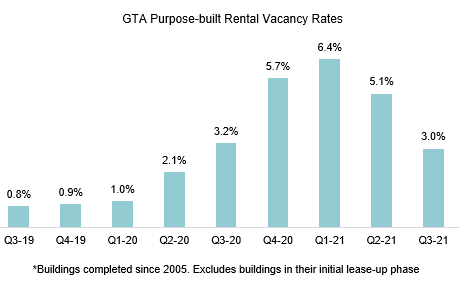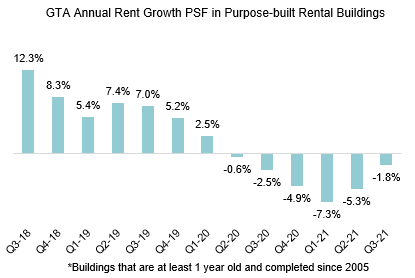 Record Condominium Lease Activity Pushes Rents Up 3.8% Annually
The number of leases signed for condominium rentals in the GTA totaled 13,969 units in Q3-2021 — increasing 6% from last year's record Q3 to reach a new market high. Market conditions tightened considerably during the third quarter. The ratio of leases-to-listings grew to 82%, the highest level since Q3-2019, while the average days on market fell to 16, the lowest since Q3-2019. Active quarter-end listings dropped 69% from a year ago and equalled 0.7 months of supply based on lease volumes averaged over the past 12 months, which was the lowest amount of inventory on the market since Q3-2018.
At an average of $2,304 ($3.31 psf), condo rents in the GTA surged by 8.2% in Q3-2021 from the previous quarter, pushing rents up 3.8% year-over-year. Rents were almost fully recovered to pre-COVID peaks, coming within 4% of the Q3-2019 high. The increase in rents was strongest in the former City of Toronto, which posted an 11.4% quarter-over-quarter and 6.2% year-over-year increase to $2,405 ($3.62 psf). However, compared to two years ago, rents in the former City of Toronto were down 6.9%.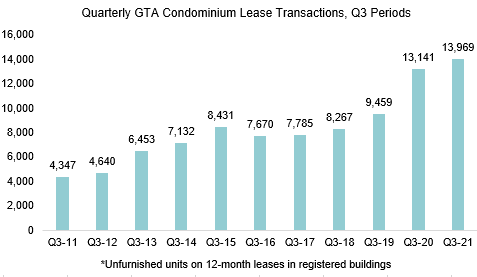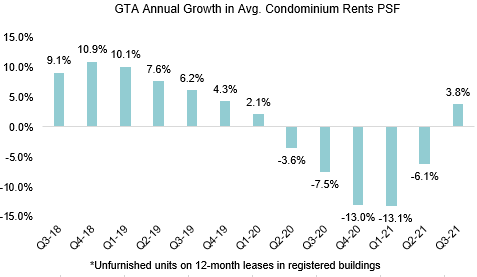 "The rental market recovery heated up considerably during the third quarter as economic restrictions continued to be lifted and the population began returning back to the core. The stage has now been set for the GTA rental market to return to pre-COVID levels in short order."
- Shaun Hildebrand, President of Urbanation.
ABOUT URBANRENTAL
Urbanation's UrbanRental subscription provides quarterly market reporting and online historical database access for completed, under construction and proposed purpose-built rentals in the GTA and Hamilton-Grimsby, as well as secondary condominium rentals in registered buildings. Urbanation surveys purpose-built rental projects developed since 2005 for market rents and vacancies through direct relationships with rental building owners and management companies, and continuous monitoring of market data on units available for rent.  Urbanation regularly conducts in-person site visits and provides full profiles for every new rental project surveyed. Urbanation's rental database also tracks development progress for every new rental project under construction and proposed for future development.
ABOUT URBANATION
Urbanation is a real estate consulting firm that has been providing market research, in-depth market analysis and consulting services to the apartment industry since 1981. Urbanation uses a multi-disciplinary approach that combines empirical research techniques with first-hand observations and site visits.  Urbanation offers subscription services and custom market studies covering the new construction condominium and purpose-built rental apartment markets in the Greater Toronto Area.
www.urbanation.ca        
www.twitter.com/urbanation