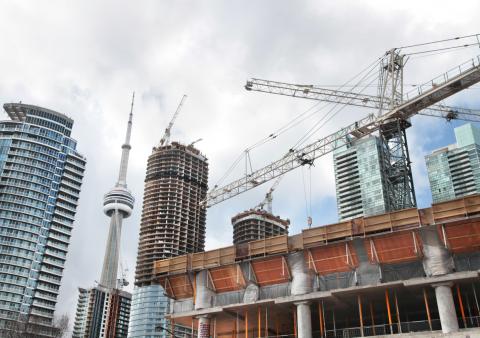 TORONTO – February 01, 2022:  Urbanation Inc., the leading source of information and analysis on the condominium market since 1981, released its year-end 2021 Condominium Market Survey results today.
New Condominium Sales Reach Second Highest Level on Record in 2021
Greater Toronto Area (GTA) new condominium apartment sales totaled 30,844 units in 2021, increasing by 69% over 2020 (18,282 units) and narrowly missing the all-time high reached in 2017 (31,216 units). The market capped off the year with exceptional strength as fourth quarter sales of 8,361 units represented 77% year-over-year growth and the highest Q4 on record. Total sales for all of 2021 and the fourth quarter of 2021 both exceeded their 10-year averages by 43%.
After the pandemic impacted presale launch activity in 2020, with new openings falling to a four-year low of 18,003 units, a total of 92 projects and 26,835 units were brought to market in 2021 — a 49% increase over 2020 and the third highest level behind 2017 (29,529 units) and 2011 (28,448 units). These new units were met with record demand as their absorption rate reached a high of 85%, far surpassing the 10-year average of 66%.  Furthermore, an 85% share of projects that launched for presale in 2021 sold at least 70% of their units, with the length of time needed to meet this level averaging only 2.6 months (average project size of 270 units). Among the 6,025 units that launched for presale during Q4-2021, a 76% share were sold by quarter-end, compared to a 55% share for units that were launched and sold a year ago in Q4-2020.
With the total number of sales in 2021 outweighing the number of new launches last year by over 4,000 units, unsold inventory dropped 26% year-over-year to a 14-quarter low of 10,422 units in Q4-2021. Unsold inventory was 31% below the 10-year average of 15,003 units and equal to only 4.1 months of supply, less than half the 10-year average of 9.3 months. In the 905 region of the GTA, inventory fell to a low of 2.4 months in Q4-2021, compared to 5.7 months in the City of Toronto (416 area).
Pricing for unsold new condo units averaged $1,322 psf in Q4-2021, increasing 18% annually — the fastest pace for new condo price appreciation since 2018. Prices increased the most in the 905 region with 23% annual growth to an average of $1,050 psf, while City of Toronto prices grew 17% year-over-year to an average of $1,429 psf.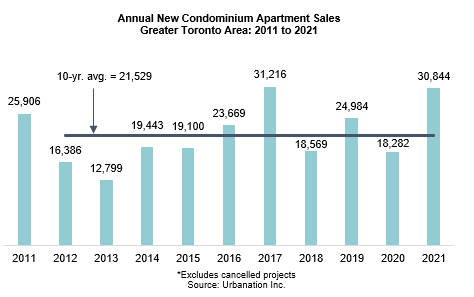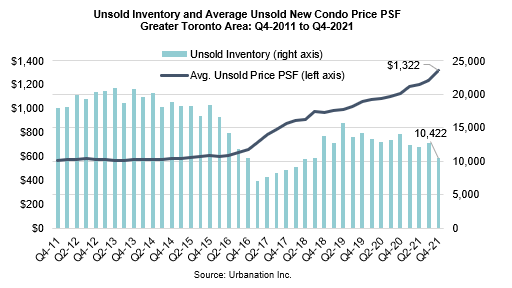 "Even with a large increase in new condo project launches in 2021, demand continued to outpace supply, leaving the market with exceptionally low inventory and surging prices heading in 2022. With resale supply also scare, expect competitive market conditions to sustain in the near term. However, by the second half of the year, interest rate increases, record condo completions, and policy changes that likely target investors should lead to more moderate levels of presale activity."
      --Shaun Hildebrand, President of Urbanation
ABOUT THE CONDOMINIUM MARKET SURVEY
Urbanation has been surveying the GTA condominium market each quarter since 1981 through established relationships with the region's developers, brokerages, and lenders. In addition, our team of experienced researchers conduct regular site visitations to compile the industry's most in-depth coverage on every new condominium project in development across the region.
Urbanation's Condominium Market Survey subscription provides access to our historical online database of new condominium developments in the GTA and Hamilton-Grimsby, including full project profiles and unit information, and market reporting metrics such as sales totals, absorption rates, inventory levels, average sold and unsold prices per sf, incentives, and more. Data is reported at the individual project level, with tools to generate regional, municipal, and submarket totals. Information on upcoming new condo project launches and future developments are tracked in our proposed database, which is also included as part of the Condo Market Survey subscription.
ABOUT URBANATION
Urbanation is a real estate consulting firm that has been providing market research, in-depth market analysis and consulting services to the apartment industry since 1981. Urbanation uses a multi-disciplinary approach that combines empirical research techniques with first-hand observations and site visits.  Urbanation offers subscription services and custom market studies covering the new construction condominium and purpose-built rental apartment markets in the Greater Toronto Area.
www.urbanation.ca                    Contact:
www.twitter.com/urbanation     [email protected]