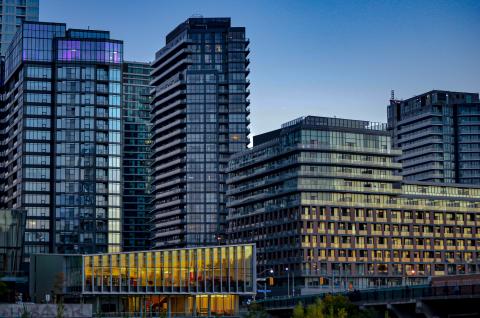 TORONTO – April 19, 2022:  Urbanation Inc., the leading source of data and analysis on the GTA condominium and rental apartment markets since 1981, released its Q1-2022 rental market results.
GTA Rents Rise by Fastest Pace on Record
Condominium rents for leases signed during Q1-2022 rose 3.1% quarter-over-quarter and 15.8% year-over-year, representing the fastest Q4-to-Q1 and annual rates of growth since Urbanation began tracking the rental market in 2010. At an average of $3.37 per square foot ($2,396 for 710 sf) in Q1-2022, GTA condo rents reached their highest level since Q4-2019 at $3.39 psf ($2,418 for 714 sf). Rents grew as lease activity totaling 9,292 units in Q1 was 50% above the 10-year average and active rental listings dropped 57% annually to 2,278 units. Condominium rent inflation over the past year was led by the recovery in the City of Toronto with a 16.8% increase. However, the effects of the pandemic on Toronto rents were still visible in its two-year decrease of 0.9%. Overall, rent increases have been highly concentrated in the 905 area of the GTA since the start of the pandemic, where rents were up 7.7% over the past two years.
Vacancy Rates Fall to Under 2%
Within the purpose-built rental market, net absorptions surpassed new supply additions for the third straight quarter in Q1, resulting in a large reduction in vacancy. Vacancy rates in stabilized buildings completed since 2005 dropped from a high of 6.4% in Q1-2021 to 1.8% in Q1-2022, nearly returning to the 1.0% level recorded just prior to the start of the pandemic in Q1-2020.
The return of excess rental demand in the GTA caused purpose-built rents to increase by 4.1% year-over-year in Q1-2022 on a same-building basis (i.e. excluding newly completed units), representing the first annual increase since the pandemic began. Furthermore, the share of surveyed buildings offering incentives fell to a pandemic low of 45%, the third straight quarter of declining incentives and down from a 70% share a year ago. Average rents for purpose-built rental projects completed since 2005 across the GTA reached a new high of $3.36 psf ($2,442 for 728 sf) in Q1-2022.
Over 118,000 Rentals in the Pipeline
The total number of under construction and planned purpose-built rentals in the GTA increased to 118,203 units in Q1-2022, increasing by 13% over the past year and 190% over the past five years. The 19,541 units under construction represented a multi-decade high that was 25% higher than a year ago and more than three times higher than five years ago. The 98,662 rentals that were proposed but had not yet started construction increased by 10% over the past year and by 186% compared to five years ago. Only a 20% share of proposed rentals were approved for development.
The 7,684 purpose-built rentals scheduled to reach completion in 2022 represents growth of 122% over the 3,461 units delivered in 2021 and is 220% higher than the five-year annual average (2,404 units).
    
"The GTA rental market has effectively recovered from COVID-19 and is re-entering its growth phase seen prior to the pandemic. The main drivers of demand — rising population inflows and poor homeownership affordability — are being amplified through increased immigration targets and higher interest rates. While progress is being made on the supply front, it is not expected to be sufficient to bring the market into a balanced state over the long-run."
- Shaun Hildebrand, President of Urbanation.