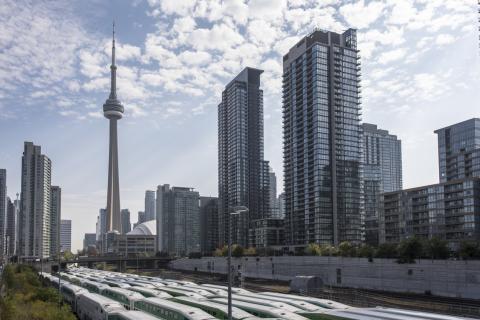 TORONTO – August 02, 2022:  Urbanation Inc., the leading source of information and analysis on the condominium market since 1981, released its Q2-2022 Condominium Market Survey results today.
Greater Toronto Area (GTA) new condominium sales totaled 6,792 units in the second quarter, declining 19% from the first quarter and 24% year-over-year but remaining above the 10-year average of 6,302 sales. Activity was supported by the launch of 9,924 new presale condos in Q2, which represented the third highest volume of new units brought to market on record, exceeding the 10-year average (6,937) by 43%. The absorption rate for new projects launched in Q2 declined to 57% — down significantly from the 81% rate recorded during both the previous quarter and in the same quarter last year but only slightly below the 10-year average of 60%.
At 11,703 units, the number of unsold new condominiums in the market rose 36% from the 18-quarter low in Q1 (8,630), although declining 6% annually and remaining 20% below the 10-year average (14,579).
New condo prices for available units continued escalating to reach a record-high average of $1,453 psf in Q2-2022, up 4% quarter-over-quarter and 20% year-over-year, partly the result of an increase in inventory at higher-priced projects. As developers grapple with quickly rising construction costs, labour shortages, large increases to development charges, higher interest rates, and lengthy approval timelines, there appears to be little, if any, room for new condo prices to adjust lower in the current environment. Furthermore, the mild decline in condo resale prices thus far, which decreased 4.9% from a high of $988 psf in Q1 to $940 psf in Q2, and still low inventory levels aren't creating an urgency for price reductions for new units.
Instead, the main way projects have reacted to this slowdown is by cancelling or delaying their plans to launch. At the beginning of the year about 35,000 new condo units were anticipated to launch for presales in the GTA. In the first half of this year close to 16,000 units launched. With less than 10,000 units expected during the rest of 2022, this leaves at least 10,000 units that will be put on the shelf.
As of Q2-2022, there was a record 123,654 new condominiums either in pre-construction sales or under construction in the GTA. Following the boom in new condo activity in the suburbs over the last three years, there is now a greater number of new condos in development in the 905 region of the GTA at 51,168 units than in the Toronto core (i.e. the former City of Toronto) at 46,391 units. The remaining 26,095 units in development were located in outer-416 former municipalities of North York, Etobicoke, York, East York and Scarborough.
"The new condominium market is likely to continue slowing in the near-term from last year's record highs as presale buyers act cautiously and developers delay new openings, with a focus on finishing projects already underway. However, prices are expected to hold firm amid low inventory and high development costs. The strength in the rental market and shift in demand towards more affordable ownership options should provide support for condominium activity as the market works through the effects of higher interest rates."
    --Shaun Hildebrand, President of Urbanation
ABOUT THE CONDOMINIUM MARKET SURVEY
Urbanation has been surveying the GTA condominium market each quarter since 1981 through established relationships with the region's developers, brokerages, and lenders. In addition, our team of experienced researchers conduct regular site visitations to compile the industry's most in-depth coverage on every new condominium project in development across the region.
Urbanation's Condominium Market Survey subscription provides access to our historical online database of new condominium developments in the GTA and Hamilton-Grimsby, including full project profiles and unit information, and market reporting metrics such as sales totals, absorption rates, inventory levels, average sold and unsold prices per sf, incentives, and more. Data is reported at the individual project level, with tools to generate regional, municipal, and submarket totals. Information on upcoming new condo project launches and future developments are tracked in our proposed database, which is also included as part of the Condo Market Survey subscription.
ABOUT URBANATION
Urbanation is a real estate consulting firm that has been providing market research, in-depth market analysis and consulting services to the apartment industry since 1981. Urbanation uses a multi-disciplinary approach that combines empirical research techniques with first-hand observations and site visits.  Urbanation offers subscription services and custom market studies covering the new construction condominium and purpose-built rental apartment markets in the Greater Toronto Area.
www.urbanation.ca                     Contact:
www.twitter.com/urbanation     [email protected]