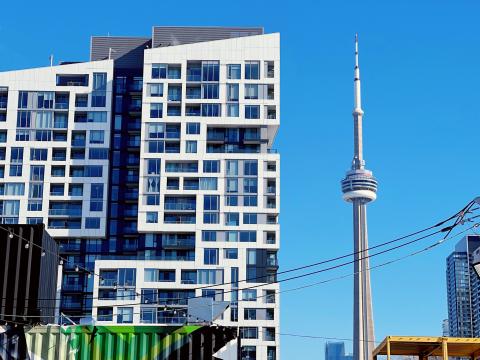 TORONTO – January 20, 2023:  Urbanation Inc., the leading source of data and analysis on the GTA condominium and rental apartment markets since 1981, released its year-end 2022 rental market results.

GTA Rent Growth Averaged 17% in 2022
The annual rate of rent growth in the GTA, as measured through condo lease transactions, averaged 16.9% during 2022, which followed a 0.5% decrease in 2021 and a 6.8% decline in 2020. On balance, rent inflation was below normal over the past three years at an average of 3.2%, compared to the latest 10-year average of 5.1%. For units transacting in Q4-2022, average rents decreased 1.6% quarter-over-quarter, back in line with typical seasonal trends. (Note that these growth rates are exclusive to units that turned over into the unregulated market. The vast majority of units do not turn over annually, are built before November 15, 2018, and are therefore subject to the provincial rent increase guideline, which was 1.2% in 2022).
Rental Demand Grew as Tenant Turnover Declined
Condominium lease transactions totaled 42,190 units in 2022, down 12% from the 2021 record high (48,256) but still well above historical averages. Lease volume decreased last year as the surge in tenant turnover caused by pandemic-related upheaval during 2021 subsided. At the same time, lease activity remained above normal due to an expansion in demand — primarily driven by a surge in immigration and foreign students, strong growth in employment, and a drop-off in first-time homebuying — as well as an increase in new supply as the condo stock increased by 19,340 units (compared to a 10-year average increase of 17,441 units) and investors opted to hold onto their units in the rental market.
More Investors Held onto their Units as Rentals
A 33.3% share of newly registered condominium units were rented out via MLS during 2022, rising from a 27.4% share in 2021 and reaching the second highest level of the past decade behind 2015 (34.2%). Investors added more rental supply to the market despite the large increase in borrowing costs, motivated by quickly rising rents, a softening resale market, and a positive outlook for rental demand given the government's increased immigration targets.
Units Renting for under $2,000 Drop 87% in Past 3 Years
As of Q4-2022, average transacted condominium rents reached $2,752 per month ($3.81 per square foot), $391 more than a year ago in Q4-2021 ($2,361) and $334 more than the pre-pandemic average in Q4-2019 ($2,418). Over the past three years, the number of units renting for under $2,000 per month dropped 87%, representing only 1.4% of leases in Q4-2022.
Vacancy Rate Falls to 1.5%
The vacancy rate in purpose-built rental projects completed in the GTA since 2005 averaged 1.5% in Q4-2022, declining from 2.4% in Q4-2021 and 5.7% in Q4-2020, effectively returning to pre-pandemic levels.
Rental Construction Starts Drop 54% in 2022
Purpose-built rental construction starts in the GTA fell 54% in 2022 to 3,442 units after reaching a multi-decade high of 7,557 starts in 2021, caused by the sharp increases in interest rates, construction costs and development charges. A total of 19,679 purpose-built rentals were under construction in the GTA at year-end, up slightly from a year earlier (18,955 units).
More Balanced Growth for Rents Anticipated in 2023
As supply temporarily rises, the economy begins to slow following aggressive interest rate hikes, and renters face affordability constraints, rent inflation is expected to moderate towards more historically normal levels in the 5% range. While a record high anticipated for combined condominium and purpose-built rental apartment completions in 2023 will bring more availability to the market, it will be met with strong demand as immigration continues to rise and homeownership affordability remains low, supporting further rent increases.
Urbanation calculated that as of Q4-2022, the difference in monthly costs between owning a condo (mortgage with 20% down plus condo fees, property taxes, and home insurance) and renting a similar unit reached a record high $997 ($3,749 versus $2,752), compared to a pre-pandemic difference of $202 in Q4-2019.
"After surging throughout most of 2022, rents started to show signs of levelling out towards the end of the year, which should provide some temporary relief for renters. Nonetheless, it's clear that the negative direction for new construction and positive outlook for demand will continue placing strong upward pressure on rents in the years to come unless more action is taken to boost rental supply."

- Shaun Hildebrand, President of Urbanation.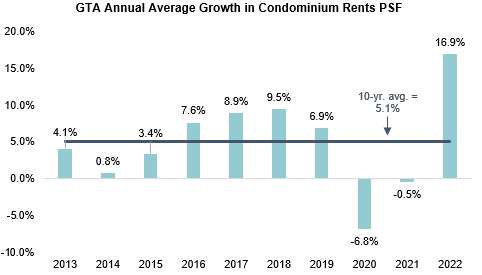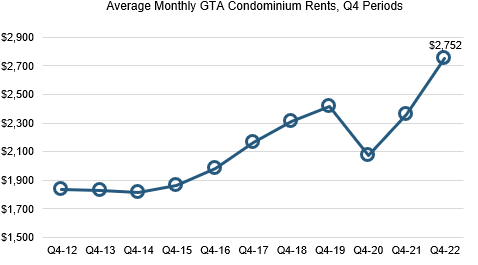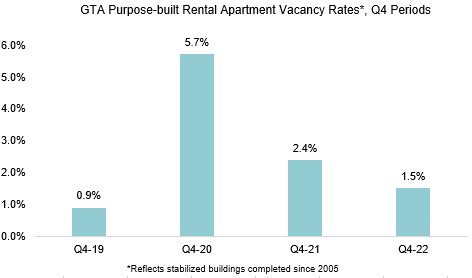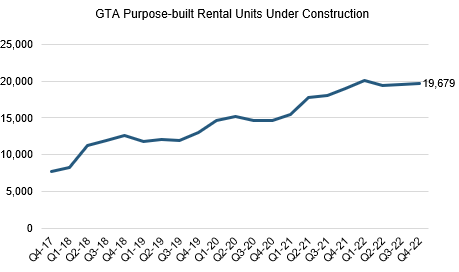 ABOUT URBANATION
Urbanation is a real estate consulting firm that has been providing market research, in-depth market analysis and consulting services to the apartment industry since 1981. Urbanation uses a multi-disciplinary approach that combines empirical research techniques with first-hand observations and site visits.  Urbanation offers subscription services and custom market studies covering the new construction condominium and purpose-built rental apartment markets in Ontario.
www.urbanation.ca       Contact: [email protected]