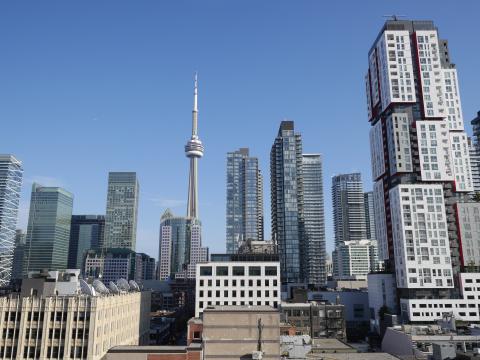 TORONTO – February 01, 2023:  Urbanation Inc., the leading source of information and analysis on the condominium market since 1981, released its year-end Condominium Market Survey results today.
New Condo Sales Fall 68% in Second Half of 2022 as Developers Pause
The severe impact of last year's interest rate increases on market uncertainty and affordability caused new condo sales in the GTA to drop 68% annually in the second half of 2022 to 5,419 units — virtually matching the lowest July-December total of the past 20 years during the Financial Crisis in 2008 (5,402). However, with a very strong start to the year, total sales of 21,782 units in 2022 were directly in line with the 10-year average of 21,983 sales. New condo sales in 2022 were down 30% when compared to the near-record high in 2021 (30,901), with Q4-2022 sales of 3,564 units declining 58% annually.
As new condo buyers retreated, developers put most projects planned for release during the summer and fall on the shelf. The 7,669 units launched for presale in the second half of the year was less than half of the 16,227 units brought to market in the first half of 2022 and 48% lower than the second half of 2021 (14,729 units).
Inventory Levels Remain in Check
Although unsold new condo inventory increased 30% year-over-year to 15,015 units in Q4-2022, the cautious approach taken by developers helped to keep available unsold supply directly in line with the 15-year average.
New Condo Prices Begin to Adjust as Resale Values Fall
New condominium pricing has become more competitive during the recent market slowdown. The average opening price for new launches in Q4-2022 at $1,329 psf was down 2% year-over-year. Furthermore, for the first time since Q4-2018, average asking prices for unsold new condominiums decreased quarter-over-over, dipping by 1% from a record high $1,443 in Q3-2022 to $1,427 psf in Q4-2022. Due to strong increases in the first half of the year, average new condominium prices were up 8% annually in Q4-2022.
New condominium pricing has come under mild pressure as resale values have trended lower over the past three quarters, declining 14% from a record average of $988 psf in Q1-2022 to $847 psf in Q4-2022, which was down 3% year-over-year. This led to a record wide gap of $580 psf (68%) between prices for new and resale condos, up from a gap of $332 psf (45%) in Q4-2019 and $233 psf (36%) in Q4-2017. While high development costs have prevented any significant price declines for new condominiums, incentives have become more prominent in the market to help bridge some of the gap and entice buyers.
Record High Condo Completions Scheduled for 2023
A record high 25,406 units (revised from an earlier schedule of 32,000 units) are projected to reach occupancy in 2023, which is about 3,000 units more than the previous 2020 high (22,473). However, the rise in supply is expected to be met with increasing demand, particularly from renters as immigration continues to rise and ownership affordability remains low.
"The slowdown in condo presales in the second half of 2022 is expected to continue into 2023, which is at odds with the need to boost housing production in the GTA over the next decade to meet increasing immigration targets and alleviate current housing supply deficits. While the market is facing near-term challenges, the fundamentals remain solid and the long-term outlook is positive"
    --Shaun Hildebrand, President of Urbanation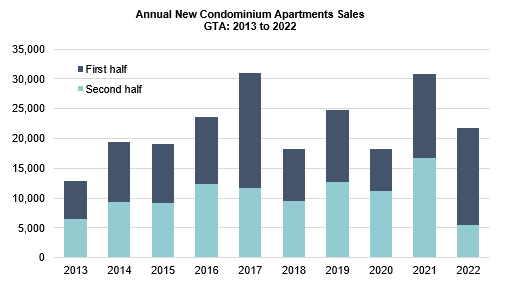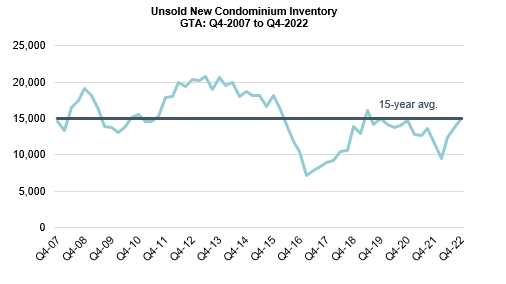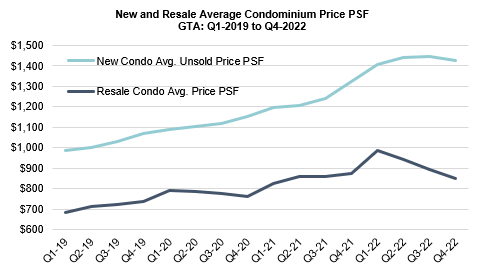 ABOUT THE CONDOMINIUM MARKET SURVEY
Urbanation has been surveying the GTA condominium market each quarter since 1981 through established relationships with the region's developers, brokerages, and lenders. In addition, our team of experienced researchers conduct regular site visitations to compile the industry's most in-depth coverage on every new condominium project in development across the region.
Urbanation's Condominium Market Survey subscription provides access to our historical online database of new condominium developments in the GTA and Hamilton-Grimsby, including full project profiles and unit information, and market reporting metrics such as sales totals, absorption rates, inventory levels, average sold and unsold prices per sf, incentives, and more. Data is reported at the individual project level, with tools to generate regional, municipal, and submarket totals. Information on upcoming new condo project launches and future developments are tracked in our proposed database, which is also included as part of the Condo Market Survey subscription.

ABOUT URBANATION
Urbanation is a real estate consulting firm that has been providing market research, in-depth market analysis and consulting services to the apartment industry since 1981. Urbanation uses a multi-disciplinary approach that combines empirical research techniques with first-hand observations and site visits.  Urbanation offers subscription services and custom market studies covering the new construction condominium and purpose-built rental apartment markets in the Greater Toronto Area.
www.urbanation.ca                    Contact:
www.twitter.com/urbanation     [email protected]