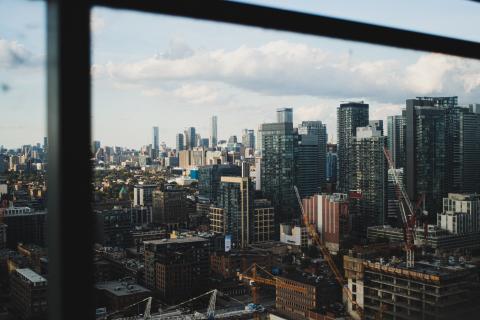 TORONTO – November 01, 2023:  Urbanation Inc., the leading source of information and analysis on the condominium market since 1981, released its Q3-2023 Condominium Market Survey results today.
Year-to-Date New Condo Sales Fall 47%
Greater Toronto Area (GTA) new condominium sales totaled 2,664 units in Q3-2023, up 41% from a year ago in Q3-2022 when presale activity was effectively ground to a halt as interest rates began rising rapidly but representing the second lowest Q3 total of the past 20 years. Year-to-date sales of 9,568 units were at their lowest level in 10 years and down 47% from the same period in 2022.
40 Projects Remain on the Shelf
New condo sales have been impacted by fewer new project launches. A total of 2,491 units launched for presale in Q3-2023, down 23% annually. Year-to-date presale launches totaling 13,197 units fell 36% annually. While there has been a recent pick-up in new presale launches, with 19 projects totaling 6,916 brought to market so far in Q4-2023, Urbanation has tallied 40 projects totaling 13,721 units that were expected to launch this year that remain on the shelf.
New Condo Prices Decline in Q3
Sale prices within new projects launched for presale during Q3-2023 averaged $1,216 psf, decreasing 18% from the record high average of $1,485 psf a year ago for presale projects launched in Q3-2022 and representing a two-year low. Average sale prices decreased as buyers and developers focused more of their activity on lower priced locations mainly in the 905 Region, which represented more than half (54%) of total Q3-2023 sales.
The overall average asking price for remaining unsold new condominiums in the GTA was $1,413 psf, decreasing 3% annually from the record high in Q3-2022 ($1,449 psf).
Slower Presales Are Impacting Construction Activity
A more than 10-year low of 1,798 new condominiums started construction in the GTA during Q3-2023, declining 72% from Q2-2023 (6,496 units) and down 86% from the record high a year ago in Q3-2022 (12,597 units). As presale activity typically impacts construction starts with a 12-18 month lag, the slowdown in new condo sales that began in the second half of 2022 is expected to continue weighing on construction starts in the coming quarters. [Note that Urbanation defines construction starts as occurring once excavation and shoring is underway, which is earlier in the process than CMHC's definition for starts occurring once the foundation is poured].
"Elevated interest rates and heightened market uncertainty continued to grip the new condominium sector in the GTA. While some new launches with competitive price points have seen success, many projects have been unable to make an economic case for proceeding in the current market, causing more supply to be put on hold."
                                    --Shaun Hildebrand, President of Urbanation