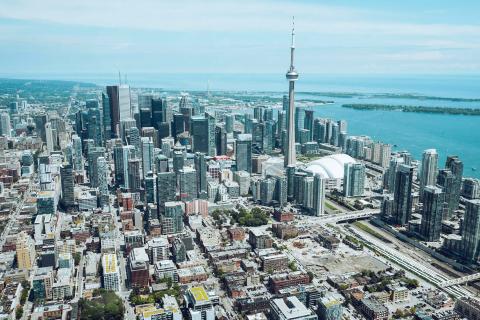 TORONTO – May 01, 2023:  Urbanation Inc., the leading source of information and analysis on the condominium market since 1981, released its Q1-2023 Condominium Market Survey results today.
New Condo Sales Fall 74% from Record High Last Year
Greater Toronto Area (GTA) new condominium sales remained slow during the first quarter of 2023, extending the challenging market conditions for new condominiums that began during the second half of 2022 as interest rates surged. New condo sales declined 74% annually in Q1-2023 to 2,360 units, representing the slowest start to a year since the financial crisis in Q1-2009 and a sharp correction from the record-high 9,242 sales in Q1-2022.
While the number of new presale units brought to market by developers in Q1-2023 fell 17% below its 10-year average, sales activity declined 54% below its 10-year average, indicating a steep drop-off in demand for new condominiums. This occurred as resale condominiums experienced a 13% annual decline in average per square foot prices in Q1-2023, causing a deterioration in confidence among new condominium buyers.
Unsold New Condo Inventory Rises to 7-Year High
The number of unsold new condominium units increased 73% year-over-year from a four-year low of 9,430 units in Q1-2022 to 16,299 units in Q1-2023, reaching its highest level in seven years. Inventory was equal to 13.2 months of supply based on sales averaged over the last 12 months, increasing from a record low 3.2 months of supply a year ago in Q1-2022 and rising notably above the 10-year average of 8.4 months of supply.
New Condo Prices Grow at Slowest Pace in 8 Years
The average price per square for available new condominiums reached $1,434, increasing 2% year-over-year. The annual rate of price growth for new condos has slowed dramatically since reaching a recent high of 20% in Q2-2022 and represented the slowest growth in eight years.
Early Signs of Stabilization Emerging
Early signs of stabilization for the GTA condo market arrived in April with a number of successful new presale launches, which is expected to usher in more new projects in the coming months. Furthermore, the resale condo market, which tends to act as a leading indicator for new condos, saw activity rise to a three-quarter high and average per sf prices increase 1.5% quarter-over-quarter in Q1-2023.
"While condo market activity in the GTA remained in a correction phase during the first quarter of 2023, buyers began to move off the sidelines more recently as interest rates stabilized. The affordability advantage condominiums hold over other housing types and the high cost of renting should add some momentum to the market moving forward"
                                    --Shaun Hildebrand, President of Urbanation