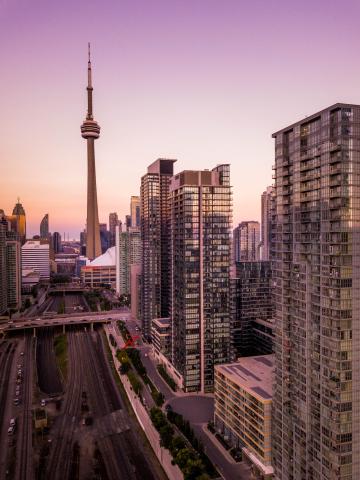 TORONTO – August 01, 2023:  Urbanation Inc., the leading source of information and analysis on the condominium market since 1981, released its Q2-2023 Condominium Market Survey results today.
New Condo Sales Down 35% Annually in Q2
Greater Toronto Area (GTA) new condominium sales increased 118% quarter-over-quarter but fell 35% annually to 4,610 units in Q2-2023. Sales were 28% below the 10-year Q2 average of 6,370 units. For the first half of 2023, the 6,727 units sold was down 59% from first half 2022 (16,272) and 42% below the first half 10-year average (11,516), representing the slowest first six months of the year since 2013.
Sales improved to a four-quarter high as 27 new projects launched for presale in Q2-2023 totaling 7,349 units, a 27% decline from a year ago (10,091 units) but in line with the 10-year average (7,276). While a number of new projects brought to market during the quarter were successful in selling the majority of their units, the overall performance of new launches in Q2-2023 remained tepid as buyers once again became concerned over the market outlook with the Bank of Canada resuming interest rate increases in June. New launch absorption increased to 47% in Q2-2023 from 37% in Q1-2023 but fell below the 57% absorption in Q2-2022 and the 10-year average absorption of 60% for new launches.
New Condo Prices Decline for First Time in 10 Years
The average price for available new condominiums decreased 1.3% quarter-over-quarter and 2.2% year-over-year to $1,411 per square foot, representing the first annual price decline for GTA new condos in 10 years. In addition to reducing prices, many projects continued to offer purchaser incentives, which included cash back/credits on closing, mortgage rate guarantees, and free or reduced parking/locker/unit upgrades, among others.
Buyers Focus on Lower Priced Projects
The 905 region represented a record high 60% share of GTA new condo sales in Q2-2023, while the former City of Toronto comprised a record low 14% share of sales. At an average of $1,172 psf, unsold new condo pricing in the 905 region of the GTA was 30% below the former City of Toronto average of $1,673 psf in Q2-2023.
As demand shifted towards lower-priced projects in the GTA, the average sold price for new launches decreased to a seven-quarter low of $1,236 psf in Q2-2023, down 8% annually and 13% below the average of $1,426 psf for projects launched in Q1-2022.
Supply Bottlenecks as Construction Count Reaches Record High
The GTA construction industry is facing significant resource constraints as the number of starts continues to run well ahead of the capacity to deliver new units. Over the last four quarters, construction starts totaled 27,537 units, more than 10,000 units above the number of completions over the same period (17,117 units), pushing the total for condos under construction to a record high 102,448 units.
"As the population expands at a record pace, the GTA's 12-month running total for new condo sales has dropped to its lowest level since 2009. This will soon begin to impact construction and eventually cause serious supply shortages in a few years, the extent of which will depend on how long the current slowdown in presale activity persists."
                                    --Shaun Hildebrand, President of Urbanation