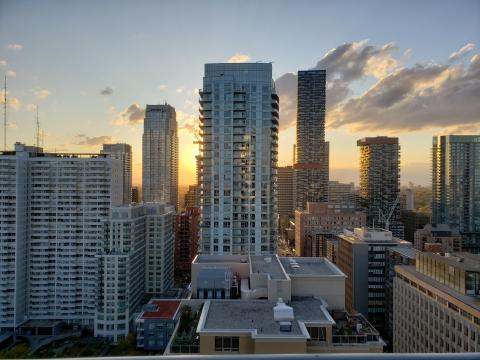 TORONTO – April 17, 2020:  Urbanation Inc., the leading source of information and analysis on the GTA condominium and rental markets since 1981, released its Q1-2020 rental market results today.

Condominium Rental Market Results
Total lease transactions in the GTA condominium market grew 16% year-over-year during Q1-2020 to reach 7,002 units — the highest first quarter total on record. However, in measuring the performance of the market in the pre-COVID-19 and post-COVID-19 periods (the start of the post-COVID-19 period being the week beginning March 16), there was a clear shift in activity. The pre-COVID-19 period within the first quarter saw year-over-year growth in leases of 25%, while the post-COVID-19 period saw a steep decline in activity, with lease volume down 25% compared to the same period a year earlier and falling 39% compared to the first half of March. The decline in rental transactions can clearly be related to the impact of the protective measures and economic uncertainty stemming from the onset of COVID-19 pandemic, with renters less willing or able to take on a new lease at current rents, as well as the closing of Canadian borders and the logistical challenges with showing units and planning for a move in the current environment.
Of importance, rental supply did not experience the same degree of decline as leases, with new listings decreasing by a more modest 7% in the post-COVID-19 period from a year earlier. The relatively more stable level of new listings may be attributed to a rise in condo completions in the first quarter, tenants unable to pay their rent providing notice to vacate, and some short-term Airbnb units becoming available in the long-term market. 
 
Units leased in Q1-2020 transacted at an average rent of $3.35 psf ($2,374), up 2% from a year ago. This confirmed that a slower inflationary environment for rents was already in place leading into the health crisis, with same-building rents flat year-over-year in the first quarter. As demand fell faster than supply in the second half of March, rents experienced a slight decline. The average monthly rent in the post-COVID-19 period decreased 0.7% year-over-year.
Not included in the data discussed above are furnished long-term rentals, which experienced a 29% year-over-year increase in listings during the first quarter to 1,382 units. At the same time, lease transactions for furnished rentals declined by 4% to 562 units. Rents for furnished long-term condo rentals were priced almost 20% higher than unfurnished units at an average of $2,836 (unchanged y/y). The growth in furnished long-term condo rental listings followed the city's short-term rental bylaw amendments that came into effect in November. The province's Airbnb suspension announced in early April will be captured in the second quarter data.

Purpose-built Rental Market Results
Urbanation's quarterly rental survey includes data collected for every new purpose-built rental apartment project that has been completed in the Greater Toronto Area (GTA) since 2005, as well as new purpose-built rental projects under construction and in the pre-construction development stage.
Within the 72 purpose-built rental buildings completed in the GTA since 2005, the average surveyed rent for available units during Q1-2020 was $2,481 per month, which was based on an average unit size of 748 sf and typically excluded most utility costs and parking costs, with the latter averaging $140 per month for the GTA. On a same-building basis (i.e. excluding new completions during the past 12 months), average monthly per square foot rents increased by 2.6% year-over-year in Q1-2020.
The vacancy rate surveyed within rental buildings in the GTA completed since 2005 (excluding projects still in their initial lease-up period) averaged 1.1% in Q1-2020, rising slightly from 0.8% a year earlier.
At the end of Q1-2020, the number of purpose-built rentals under construction in the GTA reached 13,580 units, up from 11,557 a year ago to reach the highest level since the 1970s when modern rent controls were enacted.

"As rental demand declines as job losses mount, incomes are reduced, and immigration shrinks, the slowing in the GTA rental market that appeared in the last half of March will progress for at least the next few quarters given the current economic outlook. The impact on rents will be something to watch, which will also be influenced by the timing of the record number of units that were expected to complete this year"

- Shaun Hildebrand, President of Urbanation.
ABOUT URBANRENTAL
Urbanation's UrbanRental subscription provides quarterly reports and online historical database access for newly completed, under construction and proposed purpose-built rentals in the GTA and Hamilton-Grimsby, in addition to secondary condominium rentals in registered buildings. Urbanation surveys purpose-built rental projects developed since 2005 for market rents and vacancies through our direct relationships with rental management companies, and our continuous monitoring of information on units becoming available for rent.  We regularly conduct in-person site visits and provide full profiles for every new rental project surveyed. Our rental database also tracks development progress for every new rental project under construction and proposed for future development.

ABOUT URBANATION
Urbanation is a real estate consulting firm that has been providing market research, in-depth market analysis and consulting services to the apartment industry since 1981. Urbanation uses a multi-disciplinary approach that combines empirical research techniques with first-hand observations and site visits.  Urbanation offers subscription services and custom market studies covering the new construction condominium and purpose-built rental apartment markets in the Greater Toronto Area.
www.urbanation.ca                         Contact: Shaun Hildebrand
www.twitter.com/urbanation          [email protected]
                                                      416 922 2200 ext. 243