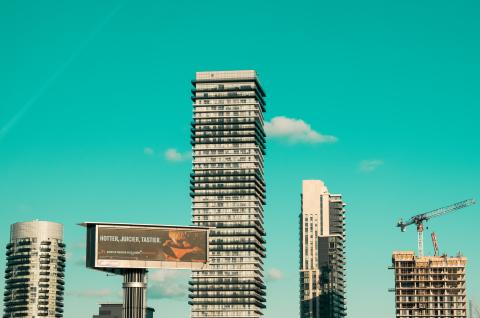 TORONTO – May 03, 2021:  Urbanation Inc., the leading source of information and analysis on the condominium market since 1981, released its Q1-2021 Condominium Market Survey results today.
New condominium apartment sales in the Greater Toronto Area totaled 5,385 units in the first quarter of 2021, coming within close range (-4%) of pre-pandemic sales of 5,593 units in Q1-2020 and surpassing the 10-year average of 4,924 sales. The 2020 theme of 905 region market dominance shifted during the first quarter as momentum swung back to downtown Toronto. The 2,886 new condominium units sold in the former City of Toronto was more than 2.5 times higher than the quarterly average between Q2- and Q4-2020 and above the pre-pandemic level of 2,829 sales in Q1-2020.
A 76% share of new condominiums launched for presale in Q1 were sold by the end of the quarter, which was the highest level of opening quarter absorption since the market high in 2017. New units that launched for presale in the GTA during Q1 sold at a record high average sale price of $1,261 psf ($817,000 for 648 sf), up 8.8% from new units launched in Q1-2020 averaging $1,159 psf ($770,00 for 664 sf). New launch activity was driven by a number of successful new openings in downtown Toronto that sold on average for $1,419 psf ($856,000 for 603 sf) — 5.7% higher than the average in Q1-2020 at $1,343 psf ($798,000 for 594 sf).
Across the GTA, unsold inventory declined 11% year-over-year to 11,956 units — a 10-quarter low. Average prices for unsold units available at the end of Q1 across the GTA increased 7.7% from a year ago to a record high $1,178 psf. As inventory wound down, developers quickly increased prices at the end of the quarter by an average of $45 psf (+4%) compared to the end of Q4-2020, with several builders raising prices by over $100 psf.
The new condominium market began heating up as the resale market broke new records during the first quarter. Total sales for GTA condominium apartment resales increased 74% year-over-year in Q1-2021, with activity in the former City of Toronto up 104% from its pre-pandemic level in Q1-2020. Resale inventory in the former City of Toronto fell to only one month of supply in the first quarter, which represented a dramatic decline from the five months of supply recorded two quarters earlier in Q3-2020. While resale prices in the former City of Toronto during Q1-2021 remained 4.7% lower than last year, they surged 6% from the previous quarter in Q4-2020 to reach an average of $1,018 psf ($750,000 for 736 sf).
In terms of future supply, the total inventory of condo units under construction across the GTA reached a record 83,497 units in Q1-2021, up 10% from 76,145 units in Q1-2020. However, the former City of Toronto represented the lowest share of GTA construction activity underway on record at 44%, while the 905 region of the GTA represented a record high share at 32%.

"The downtown Toronto condo market turned the corner in the first quarter of the year on low borrowing costs and renewed optimism regarding the outlook, but also partly due to chain reaction after suburban home prices soared 30% over the past year and put the spotlight back on urban properties."
      --Shaun Hildebrand, President of Urbanation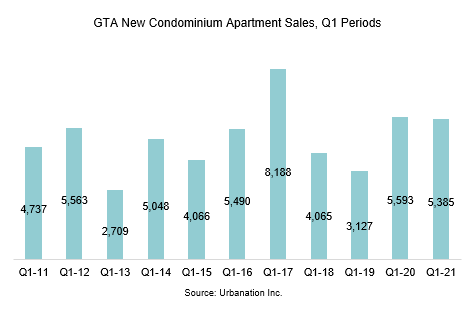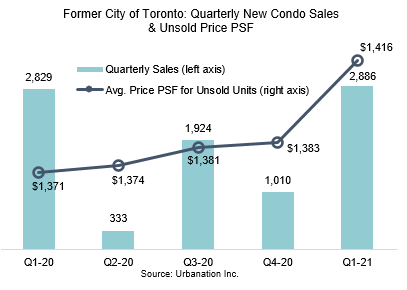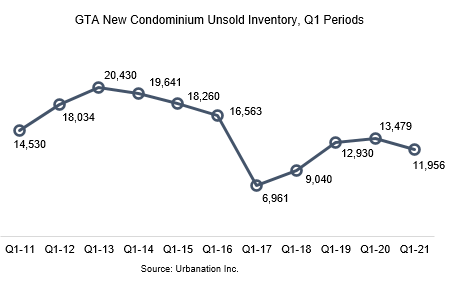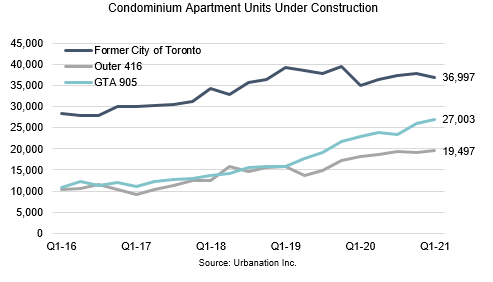 ABOUT THE CONDOMINIUM MARKET SURVEY
Urbanation has been surveying the GTA condominium market each quarter since 1981 through established relationships with the region's developers, brokerages, and lenders. In addition, our team of experienced researchers conduct regular site visitations to compile the industry's most in-depth coverage on every new condominium project in development across the region.
Urbanation's Condominium Market Survey subscription provides access to our historical online database of new condominium developments in the GTA and Hamilton-Grimsby, including full project profiles and unit information, and market reporting metrics such as sales totals, absorption rates, inventory levels, average sold and unsold prices per sf, incentives, and more. Data is reported at the individual project level, with tools to generate regional, municipal, and submarket totals. Information on upcoming new condo project launches and future developments are tracked in our proposed database, which is also included as part of the Condo Market Survey subscription.

ABOUT URBANATION
Urbanation is a real estate consulting firm that has been providing market research, in-depth market analysis and consulting services to the apartment industry since 1981. Urbanation uses a multi-disciplinary approach that combines empirical research techniques with first-hand observations and site visits.  Urbanation offers subscription services and custom market studies covering the new construction condominium and purpose-built rental apartment markets in the Greater Toronto Area.
www.urbanation.ca                    Contact:
www.twitter.com/urbanation     [email protected]